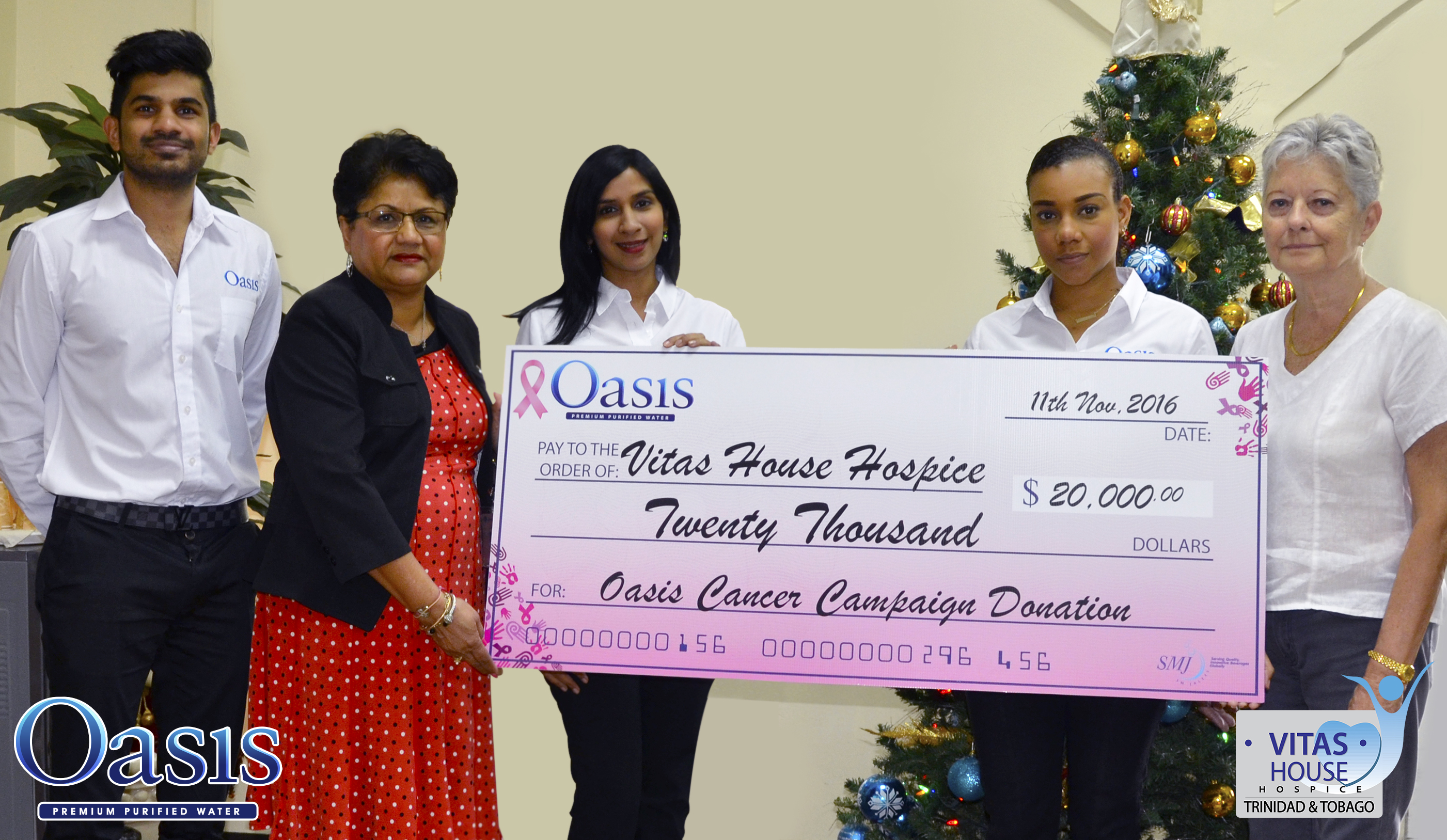 In a resilient effort during Cancer Awareness Month in October, Oasis Water was able to raise significant funds for the Vitas House Hospice and the people in their care.
Shoppers and consumers were asked to join Oasis Water in the fight against Cancer and to help raise funds to benefit Vitas House Hospice by purchasing special pink-label Oasis products. They were also able to donate directly to Vitas House Hospice by logging on to www.OasisCancerFund.com.
Oasis water Brand Manager, Nikkita Romain, thought up the campaign as a way to make a difference by believing in and harnessing the goodness of our people to help those in need.
"I felt that the people of Trinidad and Tobago would use their passion for life to help make other people's lives better. I know we have made an impact at Vita's House Hospice on behalf of all the people who contributed, and I'm glad that Oasis Water was able to be a part of that and to help connect people with a worthy cause."
Dr. Pereira Sabga, Chairman and Medical Director at Vitas House Hospice, thanked Oasis for their efforts: "Team Vitas House feels privileged that Oasis has decided to donate to Vitas House Hospice during this Cancer Awareness Month. I think that the organisation has taken a very important step in the global need to raise awareness and to help get information out to the population of Trinidad and Tobago. So thank you Oasis."
Even though Cancer Awareness Month is finished, Oasis Water would like to see the awareness continue through the rest of this year and next year.
"We would like for the public to continue to support Vitas House Hospice, we believe in what they do, we believe in their mission" says Nikkita Romain. "Donations have helped a lot of families and patients; we would like to see the heart of T&T continue to go out to the people in the care of Vitas House."
Vitas House Hospice is fully dependent on donations from the public and the business community to provide hospice care to people with cancer. To contact Vitas House Hospice and to help support their mission and their patients, call (868) 628-HOPE.
In photo left to right: Eesa Mohammed (VP of Marketing, SMJ Jaleel & Co Ltd), Mrs Lilia Mootoo (General Manager, Vitas House), Reisha Ramnarine (Group Marketing Manager, SM Jaleel & Co Ltd), Nikkita Romain (Oasis Brand Manager, SM Jaleel & Co Ltd), Patricia Stollmeyer (RN, Vitas House).